Cheat Sheet

KEY MATERIALS
Pure cotton
Stretch strength and comfort
Slowdown in organic and recycled fibers
Discreet polyester appearances
High-end Tencel blends
Softness is mainstream
KEY COLORS Darker indigo
Black denim
Grey washed denim
Bleached denim colors
Color contrast laser effects
SURFACE INTEREST Vintage appeal
Workwear influences
Discreet distress
Splashing and dirt persist
Twill weaves
Novelites In Fibres
Cotton (Pima, conventional, recycled, organic) remains the cornerstone for denim fiber choice.

Polyester gives extra shine and better price points, while bi-stretch cotton/elastane blends strengthen due to jeggings! popularity. 96% cotton, 4% XLA elastane (YuanJi at Dow XLA) / 75% cotton, 24% polyester, 1% elastane twill.

All cotton ring denim (Golden Win) / 76% Supima cotton, 24% Lycra T400 elastane (Central Fabrics) / Tencel high-end designer denim / Easy-care cotton remains soft after washing (Kantanmen by Kurabo)
Diversifyting Weights
"The new key issue is about diversifying," explained Michael Morrell of New York!s Olah Inc. Proven by Kurabo!s collection, lightweight is now mainstream; however, some brands and retailers are thinking out of the box,sourcing exclusively heavyweights. "Contrasting trend directions" becomes an important fashion industry concept.Bestseller: Golden Win!s men!s 12 oz, women!s 7-8 oz (jeggings) and 9 oz (regular denim) / 7-12 oz range (H&W Textiles) / Japanese market, 9-11 oz or less (Seaphone Textile) / 6-8 oz jeggings (Cone Burlington) / Heavyweights up to 13-14 oz (Absolute Denim) / Light to heavyweights, 7-10 oz for summer (Kurabo).
Dark Vs Light Colors
Colored denim was not a focus at Kingpins. Blues from acid washes worked well with darker novelty tones. Grey was the main alternative tone for both men and women, yet remained less popular than darks. Saturated darks for winter, violet blues for summer (Kurabo) / Greenish and bluish tints to darks (Absolute Denim) / Washed and faded black and clear grey coatings (Cone Burlington) / Grey coated and washed denim / Less grin-through effects.
Acid Vs Regular Washes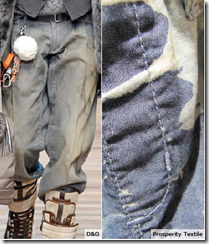 Washes move in divergent directions from bleaching, acid and worn surfaces and move into regular and polished enzyme washes. Regular washes (Absolute Denim) / Landscape dyes and finishes on washed-down jeans and khakis complement stonewashing and dry processing (Cone Burlington) / Acid washes and tie-dye effects for summer (Prosperity) /Mainstream acid washing (Seaphone Textile) / Enzyme and darker washes (Golden Win)..
Destroyed Vs. Coated Finishes
Vintage denim trends remain strong with most finishing technology going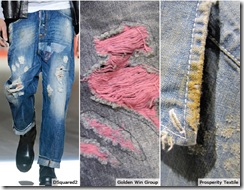 toward aged and workwear effects.Brushing and sanding remain key for soft hands.Laser techniques for images, abrasion, whiskers, color shading and destroyed effects (Jeanologia) / Less destroyed looks: small shredded straps with linings, colored yarn shreds and frays, sequined patches (Golden Win) / Discreet dirty splashes to brush coatings (Seaphone and Prosperity).
Fiber Update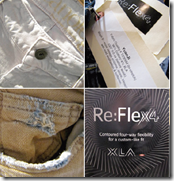 Common cotton-elastane cannot not withstand harsh acid washes, but Cotton/DOW XLA stretch denim is able to hold up to chemical treatments. Moreover, it is proofed to resist the next generation of garment dye techniques (experimentation in collaboration with Jeanologia laser technologies). Dow XLA stretch fibers have superior high heat resistance / Fiber versatility takes very bright colors / Exceptional comfort and fit / Performance through dry and wet processing.
Laser Magic
Savvy manufacturers and designers are creating "authentic" denim with laser technologies. Jeanologia, the leading laser finishing specialist, featured its Truth & Light performance collection. Denim experts were invited to identify which examples were naturally aged (Truth) and which used new laser treatments (Light). Laser finishes for multiple surface and color effects / Authentic wear patterns / Dry processing effects / Chemicalfree whisker, destroyed and fraying techniques can cut time and costs from production processes.
Thread Fantasy
New at Kingpins, Hong Kong!s A&E (American & Efird) introduced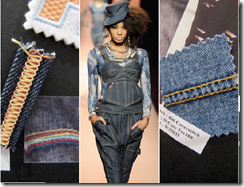 stitching suggestions for high fashion collections along with its embroidery and sewing threads lines. Cotton wrapped polyester yarns in two tones / Indigo polyester core threads wash down for denim look
/Compact serging of soft seam threads creates flat surfaces ideal for selvedge and rolled cuffs / Resilient metallic embroidery and sewing yarns.
Trims and Embelishments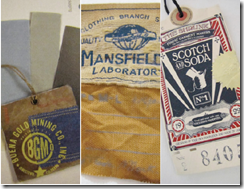 Labels and hangtags set products apart. New exhibitor Nexgen Packaging was of particular interest.European graphic styles / Worn-in, wrinkled and vintage print effects / Demand for green packaging and materials, recycled paper and water-based instead of solvent inks / Heat transfer labels abate with material labels gaining strength.
Kingpins' Tripitch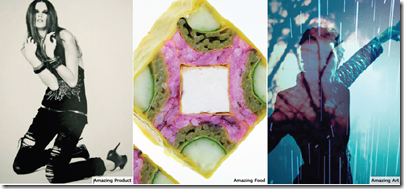 With its old Hong Kong warehouse ambiance, Osage Gallery at the Kian Dai Industrial Building, has served as an excellent platform for Kingpins! exhibitors. October!s promising edition will move one flight up to a larger, more open space. Kingpins founder, Andrew Olah said, "In October our show will be a three-prong convergence of amazing fashion and product, amazing food (we are going to really work on this and have just incredible food) and amazing art."